Besides the very known cake topper from Weddings at Work, I found some cute Cake Toppers from the internet. I would love one of them to be on top of our cake on our wedding day. Wish ko lang hehehe!
Comical Bride & Groom Figurine Ah... sweet ... wanna have one of this hihihi!


Precious Moments Waaaahhh cute nila grabe! hihihi!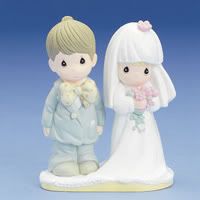 Cute As a Button (Cre8 with Carolyn) really is cute!