Side kwento: We have a chat in the office called IPmsg. Our Japanese boss installed this software to our computer for the reason that if he needs one of us, we're just one message away ... Ok ba? Siyempre, we use this also to make chismis w/o talking while working without anybody knowing it. Last Thursday Engr. Alma (whom I call Mommy sa office) sent a message to me .. it says
"Mr. Bernie, pano natin papupuntahin si Ann sa bahay na si siya magtataka?"
Binasa ko ng paulit-ulit, baka kasi typo error lang. Pero hindi talaga para sa akin ang message. So I forwarded it to Bernie at napakamot nalang siya ng ulo ...wohohoho surprise surprise! hahaha!
Since they're already busted, they just told me
"Punta ka sa bahay ng 6:oo p.m."
Dahil hindi na siya surprise, nagpaganda na ako wahaha! I borrowed my cousins hair iron to flatten my fly away haur kasi I'm sure maraming Kodak moments nanaman to.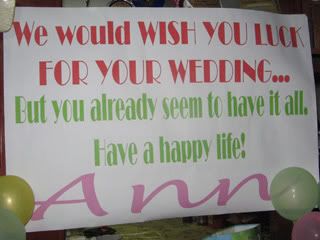 I arrived 6:30p.m. When I entered Mam Alma's house, there's a banner, a lot of balloons and gifts. What a surprise! (artista talaga ako!) What's the surprise? The whole party itself ... I don't know who's invited...di ko alam yung handa ... hindi ko din alam ang mga gimik nila ... now I'm nervous. They got my scarf and blindfolded me.
They led me to the living room. Then suddenly they started harassing me... joke lang ... term ko lang yun. kasi meron tumatabi sa akin tapos umaakbay. May humahalik, may nagpapahawak ng dibdib ... susmiyo, di ko kasi kilala kung sino2x mga yun. Pagtanggal ng blindfold ko ... aba surprise again ... yung mga binata pala ng Toyo Const. Sabi ko ...
"teka di ba bridal shower to? bakit parang stag party?"
Medyo na-late yung iba...nawalan ng rason tumakas sa office nila ... kaya love ko silang lahat kasi tumakas sila sa trabaho hahaha! There's Joel, Randy, Jerson, Jacob, Edwin, Glenn, Sir Charlie, Sir Gerold, Nydia and Angie... and ang mga officemates ko na sina Mam Alma, hubby nya si Ama (kuya Janjan), Bernie, Joyce at Christine. Sila lang naman kasi close ko sa office eh ... yung iba wala na sa hulog hahaha!
We started with a prayer ... tapos kumain na kami ... masarap ang handa ha ...simple pero masarap ... palabok, lechon manok, and lechon babsy ...Then after nun nilabas na yung cake... na may nakalagay na "I'm Ready!" (hmmm... ready for what? hahaha!) They let me sit down and started the question and answer portion. Susme parang kinabahan ako bigla hahaha! May mga questions na naughty, may serious, may tungkol sa love ... kumbaga hot seat ako ... here are some of the questions, di ko na maalala lahat sa dami :)
Ano yung pinakamagandang bagay na binigay sa iyo ni Jason?
Flashback: Paano nagpropose si Jason sa iyo?
May time ba sa buhay nyo na muntikan ka na bumigay? (ahm ah eh ...)
Ano yung katangian ni Jason ang nagustuhan mo sa kanya?
May time ba na nag-isip ka mangaliwa o palitan si Jason? (ahm ah eh ...)
Pagdating ng panahon na nasa mid-life crisis na kayo ni Jason, makakaya mo kaya? (huh? I'll just cross the bridge when I get there)
Gano katagal yung kiss ni Jason na hindi mo makakalimutan? (heller? tsk!)
San ang iyong kiliti? (bakit kikilitiin mo ako?)
San parte ng katawan mo na hinahalikan ni Jason na nakikiliti ka (hindi ako ang kinilig dito ...sila mismo nung tinanong nila hahahaha! )
Ano sa tingin mo ang katangian mo ang nagustuhan n Jason sa iyo? (oh my ... I think everything!)
After the wedding, san kayo titira?
Pano kung pinapili ka ni Jason, carreer o family, ano pipiliin mo?
Ano gagawin nyo sa first night nyo? (eh di matutulog wahahaha)
Nagpagupit ka ba? (hindi, nag-hair iron lang ako)
San ang honeymoon destination nyo? (bakit sasama ka?)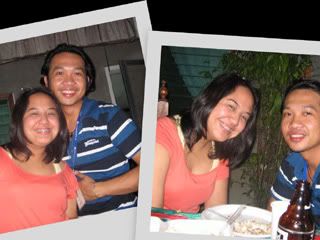 After that, I opened their gifts. I got a nighties from Angie, A red night gown from Nydia, A bracelet from Apple and a friendship figurine from Jacob. Jacob drove me home safely along with Sir Charlie and Glenn. They're so sweet as in and I'll never forget them talaga. They signed my banner.. The usual "goodluck to your carreer" and "best wishes" But one dedication caught my eye ... dahil siya lang ang pinakamahaba... hehehe! It says, "Just one thing ... always keep God between you and Jason, Live happily and Keep the Flame of Love burning in yur hearts ... Your Sweet, Joel" Awww Joel, you're really are sweet. I call him Sweet for the reason na he's really sweet. He's one of my dearest friend here in Laoag.


Hay, I made a lot of good memories here in laoag. Im surely gonna miss it here, most especially the people around me who I love dearly so much ... I'll never forget them. Wait till for our first born ... ninong at ninang kayo lahat hahahaha!
From Left -Right: Joyce, Nydia, Apple, Angie, Christine, Me, Alma Front: Bryle and AJ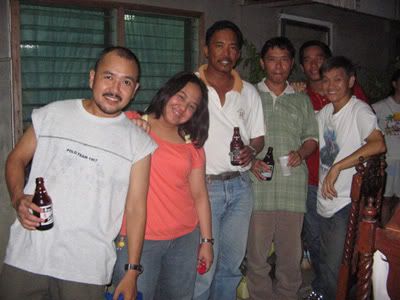 From Left to Right: Bernie, Me, Sir Jerold, Sir Charlie, Jacob and Kuya Janjan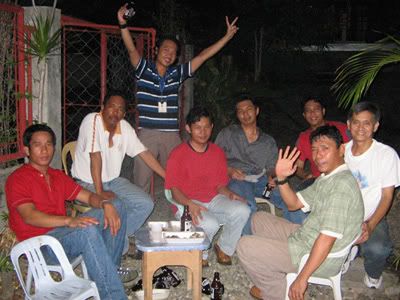 From Left to Right: Jacob, Sir Jerold, Joel, Edwin, Randy, Glenn, Kuya Janjan and Sir Charlie
Me and Lolo Jerson
Thanks to Angie and Nydia (sila daw ang utak sa party na ito hahahaha! Ang reason kaya napaaga ang party ko because of Nydia. Maternity leave na kasi niya. Until end og June nalang siya kaya advance party na ang ginawa for me), Mami Alma and Ama Janjan for having my great party at your house (I know lagi kayo maaasahan ... may God shower you with more blessings)... and thanks to Bernie na nag-aya sa mga taga-PCI (Pare iba ka talaga sa mga ibang kumpare natin diyan hahahaha!) Joyce at Christine (mamimiss ko kayong dalawa ... keep in touch, wag kayo papaapi ha?)
To Joel (Sweet, thanks for everything ... for bearing with my kasentihan and kakulitan ... thanks for lending your gameboy and Buddy sometimes.), Randy (oi Lolo Candy, wala pa din yung Go nuts Donuts ko sa iyo ha), Jerson (oi lolo Jers, take care of your baby ha?), Jacob (thanks for driving me home safely :) mwah gonna miss you lolo sobra!), Edwin (loko ka, tahimik ka lang pero ang banat mo sa mga tanong grabe ha!), Glenn (kaw talaga, basta naughty stuffs buhay na buhay ka), Sir Charlie (thanks po sa pagsama sa amin sa paghatid sa akin), Sir Gerold (thanks sa mga walang katapusang questions mo at advices), ... thanks for sharing this special day with me.
Thanks to May and Sheng for your greetings sa text. Wish both of you were there.
I love you all and gonna miss you all mwah!