My boss was in a good mood yesterday that's why I never missed the chance to tell him that I'll be resigning already and I'll be staying till the end of the month. he was happy to hear about and he said that its about time I'll gonna get married. He told me that its really nice working with me for almost 4 years already. Ahww isn't my boss sweet. My tears almost fell but I tried to hold on to it. Now, my days is already ticking ...

My dad's brother and his family came here in the Philippines for a month vacation. We're so excited to see them especially our two cousins Minia and JP. The last time we saw Minia was when she was still 5 yrs old. And now she's already 16 years old. JP is only three. They're so cute really. I love cuddling them both. JP talks a lot with an english accent. Minia can understand Tagalog but can't speak it.

As usual, the table is full of palatable foods. Eto ang mamimiss ko sa bahay ni Lola... madaming pagkain grabe..That's the reason why I'm having a hard time losing weight hahaha!

Sunday came... went down for breakfast. Changed clothes because nag-aya siya to go the beach. But before we left, my tita gave my PalmOne Tungten E2. Whoopee yahoo! I've been eyeing to have one of these after I resign to organize my scheds especially with my suppliers.

We went to the beach by 7am. While they were swimming, as usual, photographer nanaman ako. But that's ok. After that nagbanlaw kami sa may poso. Susme, nagbasaan pa kami magpipinsan. Parang kami mga bata. Our grandma's laughing so hard. Maybe because we reminded her of us when we were still little.


This is Jon Paolo, JP for short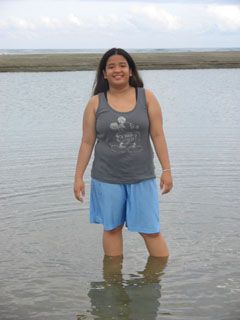 This is Minia, JP's big sister ... really big... just kidding ading!

We were all bored so we went upstairs to watch JP's DVD's. We're kinda bumming ourselves in my room. Tita Rose bought a lot of chichirya for us to munch on. Grabe na to, added fats again huhuhu! It's something Minia wanted to taste again. The last time she ate one was when she was 5 years old. Actually, she's dying to eat spaghetti at Jollibee. There's no Jollibee store in Virginia, only in California. Tsk! wawang bata.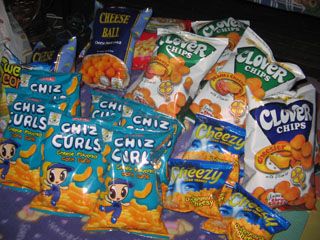 This are a few request from Minia besides eating Jolly Spaghetti. She's asking her mom if she can bring some to the US.

Hay sayang, I can only be with them for few days, I'm going to Manila on Wednesday night for our Discovery Weekend. They will only stay here for only two weeks...huhuhu!. I'll surely gonna miss them so much.