June 3, 2006 - Saturday
I arrived 7:00 a.m. in Manila. Dad fetch me at the bus station. I just played with Iwa and Popoy for a couple of minutes, eat breakfast and took a bath. I went to my Derma around 10a.m. Long line of patients, mostly having problems with their atopic dermatitis. Hmmm... it's not only me who's having this kind of problem after all. Since my derma cancelled all her appointments last Friday, super duper dami ng patients niya. I was number 7 on the list (15 kami naka-lista). I ended up 1pm and it took her 10 mins lang para tignan ang allergies ko.
2:00p.m. got a text message from Chacha (Jason's barkada) and Jamie-Lyn (Jason's sister) that they're already in KFC Mindanao Ave. Bigla akong nataranta ... very prompt ha. I thought mali-late sila. Anyway, it's only 15mins drive from Fairview. Mr. Jun Ricaforte got their measurements. And nag-apila na rin yung MOH ko to redesign the gowns. Almost lahat ng nagpasukat entourage sa side ni Jason. I saw his Mom, sister, cousins, tito and tita ... oh di ba? I went with my mom, my bro and my cousin. Wala si Jason, he has to work pa-sweldo sa site kasi (Project Manager eh).
After that, I told mom di na ako sasama sa SM kasi grabe ang sakit ng ulo ko. Di kasi ako umidlip pagkadating ko from Laoag. Super hectic ba schedule? hahahaha! Kaya natulog nalang ako. Then mom told me na she met a realtor last week and gusto nila matignan yung house and lot sa Tagaytay. Nagpapabili kasi yung tito ko sa US para may bakasyunan daw sila family pag umuuwi sila sa Pinas. I asked them if we can bring Jason along, since that's his forte ... para alam namin kung ok o hindi yung sinasabi nilang "for sale". I texted him na sa bahay na matulog kasi maaga kami pupunta ng Tagaytay sa Sunday. He said yes naman, at 11:00p.m. nasa bahay na siya, just in time to watch PBB Teens Big Night. Kim won, was expecting Claire to win
because she needed the money most. But I forgot, how many chinese are there in the Phils. di ba?
June 4, 2006 - Sunday
Woke up 6:00 a.m. took a bath and eat breakfast. Nauna pang nagising si Jason sa akin ha. Nyahahaha! We attend mass first in our Lady of Perpetual Church (hmmm... tama ba ako, basta yung malapit sa Josephine's) ... the church is pretty. Still wondering where's Caleruega Church... I haven't been in that place and a lot of brides are having their wedding in Caleruega. Di ko nga alam kung tama yung spelling ko eh hahaha!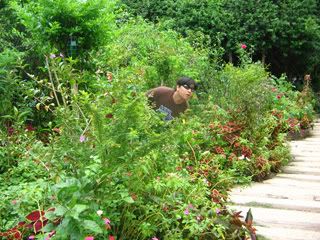 Then we met up with the realtors ... Since Jason is with us, he explained to my Dad(bonding moment) the do's and the don'ts. Almost all the lots na natira for sale faces the South which is in Feng Sui, the Devil's Gate. Some of the lots we saw are like "lugi", pinilit magkaroon ng lot lang... tapos ang mahal. We ended up with nothing ... Tingin dito tingin doon ... siguro it's not really meant for us hehehe! Oh well, ok lang we enjoyed the trip. Kahit papaano.
On the way to Sonya's Garden, di pa kasi namin nata-try dun. Kaya talagang pumunta kami ng Metro Tagaytay just to have our lunch there... We had a sad experience with Antonio's. Kasi naman pasaway kami masyado, sabi na ngang magpapareserve muna bago pumunta dun. Ayan tuloy di kami nakapasok dun. Sa SOnya's may reservation din, but good thing medyo late na kami nakarating dun... mga 2:00p.m. and halos lahat ng kumain dun eh patapos na. No hassle on getting what to eat because there's 1 menu for everyone. First, they'll serve green salad with dressing, and a lot of fruits and other veggies to go with your salad. Thet'll serve bread with i think 5 kinds of spread. Basta lahat masarap. Then after that they serve pasta ... with two kinds of sauces and some toppings as well. Bottomless ang dalandan juice. Ang dessert ... sweet camote and turon with langka. Sarap grabe ... I'm sure babalik kami dun hehehe. Tapos ikot-ikot lang kami sa garden, ganda ng garden nila grabe as in. Picture dito, picture doon hehehe. We bought cheese muffins which is really good and leeks hopia. Tapos sila mom bumili ng Taragon leaves for tea, ang sarap kasi yung si-nerve sa amin na hot tea after we ate all their food. We're so stuffed sobra.
Monday ... went to SM to buy Jamiel Ann's souvenirs for the Ninongs and Ninangs ... Yun na ang gift ko sa kanya. Hehehe! Nakow ... oo nga pala, may pakimkim pa pala. Wala na ata akong cash hehehe. Tapos naghanap na din ako ng blouse na gagamitin ko sa binyag. Parang akong chinese, love ko talaga yung mga blouse na chinese collar eh. hehehe! Old rose ang color...don't
worry I'll post it next time hehehe.
Nga pala, I might have my engagement ring ... kasi I let Jason see the blue opal ring mom got from her alahera ... sabi ni Jason hindi daw bagay yung gold sa kamay ko, dapat daw white gold ... kaya ayun pina-order na ni mom. Sana hindi mahal, and sana nga umabot sa pamamanhikan this June 18, kaso hindi ata aabot eh huhuhu. I can't wait grabe!
Kagabi kinukulit ko sila Dan at Paul sa text. Unfortunately si Paul walang load...si Dan yung reply ng reply... kaso two words lang lagi "haha ok" "haha great" hahaha naloloka na talaga ako ...gusto ko na mag-resign promise huhuhu! Kailangan ko na mag-hands on sa preps promise!