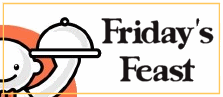 Appetizer
Describe a toy you remember from your childhood.
A walking doll that I never had the chance to play with because my mom keeps it inside the cabinet until it broke down.
Soup
On a scale of 1 to 10 (with 10 being highest) how observant are you?
I'm an 8 :)
Salad
Where would you rather be at this very moment?
Hmmm... hubby and I never had the greatest summer vacation this year so I'm thinking of Bohol or Cebu.
Main Course
When was the last time you learned something new?
I think that was 5 months ago when I learned how to do digiscrapping.
Dessert
Fill in the blank: I have the 3 Shopaholic books but I haven't started reading it, not one.