I texted Dad, Mom and Jason that I'll be coming home this weekend. I'm having problems with my allergies. FYI: I have atopic dermatitis. I need to see Dra. Sandejas (my dermatologist). Definitely she knows what to do. Eversince I got here in Laoag, my skin got confused with its environment. The air is very salty (sea breeze, I mean) that's why every night I can't sleep without the aircon on. Maybe this this time I can convince my mom and dad that I should resign or else, until my Wedding day, I would be eaten up with these allergies. waaaaahhh!
Good thing some of my entourage will gonna get their measurement this Saturday. Jason texted me to assist them since he has work that day (sa construction, ang sweldo is every Saturday). Medyo madami sila ngayon ha, Mother-in-law to be, my 3 Secondary Sponsors and 2 bridesmaid sa side niya ang pupunta. Saka yung MOH ko didn't like her gown design, aapila kami kay Jun Ricaforte about it hehehe.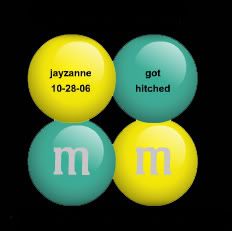 I went bloghopping 2 days ago and I saw Mai (ni Paul)'s wedsite. I saw the M&Ms candies that were a gift to them. It has their name and their motiff with it. I went to the M&Ms site and did my own design. And voila here it is ... now how can I tell my 3 tita's and tito to get some for me? hahahaha! I'll do everything to get their attention hihihihi! I'm sure my guest will love this M&Ms especially my dear Dad who's a chocoholic too.
Went to the BPI at 11:00 to pay our Discovery Weekend slot. At least nakabayad na kami. Kaya tuloy na tuloy na sa July 7-9, 2006 sa OMI Retreat House. Whoopeee! Ms. Lala will email nalang daw the details of the 3 day activity. I'm so excited. I wish there's some W@Wies who had their DW's sched same date with us.:)
Jason was in Gateway, Cubao... called me an hour ago. He said our rings are ready for pick up. Sinukat niya yung ring niya, and super duper ok sa alright naman yung ring niya. Ewan ko sa akin. He'll take a picture daw bago siya umuwi mamaya, punta kasi siya sa Quiapo, dun kasi yung isang project niya eh. :) Isn't he excited? hihihi! Nagulat nga ako eh. Sa personalidad ni Jason, wala yang mga ganyan gesture, kaya pag ginawa niya super kilig talaga ako hihihi.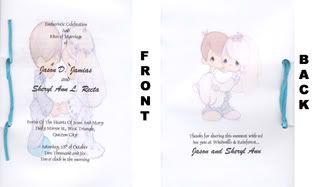 And here's my DIY Misalette. I'm not planning on a theme talaga. Nilagay ko lang yan sa front and back cover kasi ang cute. The text inside I used Comic Sans MS. I got this cute cliparts from the Precious Moment site. Tapos I used paper twine in Turquiose to bind them. Ready for approval na to. :) But still I'm wondering where to put our own wedding vows here.